Welcome to Arizona People's Assembly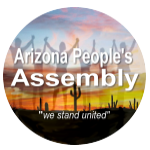 The Arizona People's Assembly is a group of Arizonans, who stand united in upholding The People's Natural Rights by facilitating activities for the alignment of our mission, governance, strategy, operations and oversight within Arizona.
APA Mission Statement & Vision
APA Mission Statement: To uphold Natural law guaranteed by Creator/Source/God in the "Original Constitution" for the united States of America To support elected officials in governing according to their oath of office, create a system of checks, balances and processes to form a lawful de jure Grand Jury as necessary. And to raise the collective Consciousness of Arizonans through the support of Source/Natural Law as the ultimate remedy in every situation.
APA Vision: Our vision for the Arizona People's Assembly is to reestablish Natural Law as the Supreme law of the land through models of love; as we get better at this, we desire to raise the consciousness of each other and our fellow earth mates, especially in Arizona. As Sovereign beings on Earth we are ready to live in devotion to our planet and in unconditional love for all, which will only be manifested as we unite for the highest good for all of her inhabitants, human, ecosystems, plants, animals, and all organic living beings. We are committed to promoting the core concepts that love, truth, justice, freedom and life will be shared, encouraged and preserved. To this end, we pledge to operate in alignment with Source/Natural Law, with each other and with unconditional love for all of creation.